Jan
23
Canoeing? No. Kayaking? Yes – at summer camp in Chicago
You read correctly. We may be in the dead of winter, but if you have children, it's not too soon to start thinking about summer camp registration. In fact, slots for some programs fill up fast over the winter, and if you don't act quickly, your kids could miss out on some great summer opportunities (and you on some summer peace and quiet!)
Below are some great Chicago summer camp offerings. All programs are day camps unless otherwise noted.
Jan
23
A milk crate and a child's chair stand guard over a parking space in a Chicago neighborhood
For years, it has been a tradition in some of Chicago's residential neighborhoods for residents to lay claim to the street parking directly in front of their homes. This is especially true of Chicagoans after they shovel out the snow following a big storm: they want to preserve their newly accessible space for the benefit of their own vehicle. Now, however, the city is pushing back against the practice of "space saving."
Jan
21
My sister, Nathalie Ames, and I were fortunate to be among the 240,000 to have tickets to yesterday's Inauguration. We were in the "Silver Section" which was located directly behind the reflecting pool. It was the furthest ticketed area from the stage and we shared it with tens of thousands of other people.
It was quite a day. Here's how things went.
Jan
20
Chicago Agent magazine's "Real Data 2009" was delivered today. This book is their annual compilation of local residential statistics including top brokerage offices and top-producing agents. Their figures were taken from sales reported to Chicago's Multiple Listing Service (MRED) from January through November 2008. Their stats are organized by county and include Cook, DuPage, Lake, McHenry, Kane and Will counties.
As with the preceding year, the report for 2008 is a somber one for most agents, but for others, including me, there's plenty of positive news as well.
Jan
20
I have uploaded the photos I took of the people and atmosphere prior to the inauguration here in D.C. They include many colorfully dressed Obama supporters as well as the sites of the Capital being prepared for today's festivities. You can check them all out on my Flickr page.
I'll be adding more shots from the inauguration itself after the big event today.
Stay tuned!
Jan
19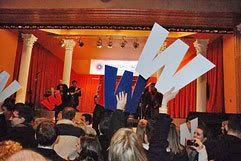 The crowd in anticipation of President Bush's arrival
My trip to Washington D.C. is turning out to be a bipartisan affair. On Sunday evening, as Washington D.C. was filling-up with Obama supporters, I had the opportunity through a good college friend to join Bush's White House team for a farewell bash. Attendees included several members of the cabinet including Secretary of State Condoleezza Rice. A very casual affair, the "Crossing the Finish Line" celebration was held in the Spanish Ballroom at Glen Echo Park.
Jan
19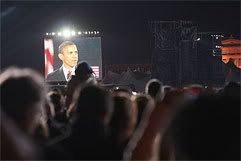 Obama's election night rally in Chicago's Grant Park. (Photo by gingerbydesign)
Like more than a few Chicagoans, today, I am not in the Windy City but rather 600 miles to the east in Washington, D.C. As you might have guessed – I'm here to see firsthand the inauguration of our 44th President, Chicago's own Barack Obama.
If you've read the news, you know that I am far from the only one to make such plans. Thousands from Chicago and around the country have been cramming into trains, planes, and automobiles to come see Obama's swearing in as well as attend countless parties, concerts, prayer services and other events.
Jan
19
Sheryl Crow, who will appear at an upcoming private concert in Lincoln Park (photo by Anirudh Koul)
Say good-bye to school bake sale fundraisers! This economy is pushing Chicago area not-for-profit organizations to be more creative as they pursue a diminished pool of charitable dollars.
Below are three upcoming fundraisers where you can not only have a great time but support causes that make Chicago the world-class city it is.
Sheryl Crow at Francis W. Park School
Chicago's prestigious Francis W. Parker School is aiming to raise $1 million for their endowment through a private concert featuring 9-time Grammy award winning singer/song writer Sheryl Crow. The concert will be held in the school's new Diane and David B. Heller Auditorium.
The show will take place on Saturday, March 7 at 7:00 p.m. and is not being advertised outside of the school community. At $500 to $5,000 a seat, tickets are not cheap. Still, the cause is a good one and the chance to see this popular performer in an intimate venue like a school auditorium is sure to be amazing. Visit www.supportfwp.org to order tickets.
Jan
14
I really do love living in Chicago. There is so much good stuff here to stimulate your mind! In addition to world-class museums, Chicago has many outstanding art and antiques galleries. We are best known for the many galleries found in Chicago's River North neighborhood. A former warehouse district just across the river from the Loop, River North is home to trendy residential condos and lofts, as well as the largest concentration of art galleries outside of Manhattan, Chicago's Gallery District.
Jan
12
The snow has not let-up in the last 48 hours, at least not in Chicago's Lakeview neighborhood where I live. Everything everywhere is covered in a pristine blanket of fluffy whiteness. The snow in our backyard is at least a foot deep. Hollywood could not have painted a prettier picture of winter in the Midwest.
But don't let the magic of the season lull you into thinking that everyone is on holiday. Today as I drove around Chicago's north side showing homes to potential buyers, I noticed that the City's parking enforcement division was hard at work dusting off meters to verify that they had not expired. I saw one Parking Enforcement Aid (PEA) scrape the snow off a small portion of an offender's windshield – creating just enough space to slap on a bright orange parking violation notice. If you were among the unlucky ones who received a citation, you might want to check out this informative blog about how to fight parking tickets. However, if you simply decided not to feed your snow-covered meter, you should probably just pay the ticket!
keep looking »