Feb
18
Yesterday, President Obama signed into law one of the largest pieces of legislation in American history, The American Recovery and Reinvestment Act (a.k.a. the economic stimulus package), a $787 billion mix of tax breaks and government spending intended to jumpstart the U.S. economy.
I'm not a macro economist, so I can't comment on the broader implications of the bill. However, I do understand the Chicago residential real estate market, and from what I've seen lately, the passage of the bill seems to be having some effect, whether direct or psychological, on home buyers in Chicago.
Read more
Feb
18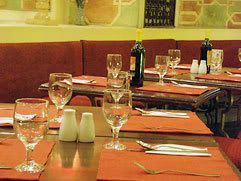 Did you notice the hip new restaurant that opened two blocks over? PeekaCity did!
Do you know which coffee shops are near your home? What about restaurants? Dry cleaners? Parks?
If you've lived in your current home for awhile, you probably know your way around, but what if you are considering moving into a new neighborhood? Touring the homes that are for sale may be easy, but how can you keep track of which amenities are near each home?
Thanks to a website called PeekaCity, it's simple. Just enter an address in a metropolitan area (such as our own beloved Chicago) and see what's nearby – all laid out on an easy-to-use interactive map.
You can scope out everything from banks and fitness centers to health care providers and public transportation. Try it out with your address!
I like this tool so much, I've added it to my Chicago real estate website so potential buyers can explore what is near each of the homes I have for sale.
Photo by Jun Acullador
Feb
6
The City has created photos of several Chicago locations with tens of thousands of times more clarity than the image above.
I have been an avid photographer since eighth grade, so when I first started selling residential real estate 15 years ago, I jumped right in to the art of architectural photography. Now, I shoot nearly 100 homes per year, and the professional grade digital photo equipment I use has been a fantastic asset to my marketing.
However, I'm not the only one who appreciates the impact our fair city can make when shot with the right gear. The City of Chicago has apparently got its hands on a new tool with the ability to take super-high resolution photos, and the fruits of their labor can be seen on Chicago's newly launched "Explore Chicago" tourism page in the "gigapan" gallery.
Feb
3
The famed statue of Abraham Lincoln in Chicago's Lincoln Park (photo by Jeremy Burgin)
Even to the casual observer, it's easy to see how proud we are in Chicago of the late Illinois rail-splitter-turned-president, Abraham Lincoln. There are Chicago streets, parks, statues, entire neighborhoods (Lincoln Park and Lincoln Square), and countless business establishments that have been built or named in Lincoln's honor.
Now, in a year when another lanky statesman from Illinois has been sworn in as the nation's Commander-in-Chief, it just so happens that Honest Abe's 200th birthday is about to roll around. The exact date falls on February 12, and to no one's surprise, Chicago is not about to let this bicentennial pass without a fuss. Below are some of the many ways you can celebrate the legacy of the Great Emancipator while taking in some important Illinois history at the same time.