Mar
25
It's that time of year again! City street cleaning starts on Monday, March 30th and runs through November. During street cleaning days, you cannot park your car on a specific side of the street in order to accommodate the street cleaner.
The way the city communicates the schedule varies by neighborhood. In parts of the Gold Coast for example, you are notified of street cleaning by permanent signs. In other areas, temporary bright orange cardboard signs are posted one day before the street will be cleaned. The problem with both methods is that depending on where you park, your view of the sign may be obstructed. So, if you notice an entire block of mostly open parking, look carefully before deciding that the parking gods must be shining upon you.
Mar
24
Increasingly, Chicago is known for a different kind of theater.
Hollywood may be known as the movie capital of the world, but thanks to Chicago's unique character (and some Illinois tax credits), our city is playing an increasing role in major film productions.
Recently, The Windy City stood in for the fictional Gotham City in Christopher Nolan's new Batman film series. While I was not able to catch the latest installment, The Dark Knight, in theaters, it was hard to miss the crew as they were filming around town in the summer of 2007.  According to the Chicago Tribune, The Dark Knight crew shot for a total of 65 days in 35 different Chicago area locations.
Mar
22
Spring is on its way, a welcome change after a brisk Chicago winter. Bulbs are starting to sprout, buds are on the trees, and nature's marvelous rebirth is right around the corner. Historically, spring is also that time of year when our real estate market comes alive, often with vigor. In years past, my residential real estate sales team and I averaged approximately 40% of our total year's sales during Chicago's "spring market."
Believe it or not, our spring market is off to a healthy start this year. We have now written about the same amount of dollar volume as we did at this time last year, possibly a bit more. I attribute the fact that we are on course to our constant attention to pricing. All the beautiful brochures and online photos in the world won't sell a home in this market if the asking price is too high. So, we have shifted how we communicate with our seller clients, and spot-on pricing is a frequent topic of discussion. While we are rarely getting the prices we would prefer, our clients who sell are relieved to be out from under their home and able to get on with their lives.
But our spring is not all joyful…
Mar
21
When I think about Africa, my mind goes straight to the "Big Five." These are the "trophy" animals that visitors often hope to see while on safari. They include the rhinoceros, elephant, leopard, buffalo and lion.
Here in Chicago's urban "jungle" we may not have thousand pound mammals roaming our streets, but we do have what I call my own "Big Five." Many of my favorite childhood memories tie back to the time I spent in each of these places. Whether you are a lifelong resident or a tourist in our fair city, be sure to explore these world-class institutions when you have the chance.
Mar
18
Thanks to your generous showing of support, Live and Play in Chicago qualified among just 32 blogs in the United States to participate in the nationwide real estate blog brawl.
Our first competitor is www.carolinevablog.com, coincidentally, another blog written by a Coldwell Banker agent named Jennifer – a Jennifer Rathbun of Fredericksburg, Virginia.
To win this match up, we need only to solicit the most votes from as many Internet connections (IP addresses) as possible. Even the hotspot at your local Starbucks counts as an extra vote, but I'm not asking that much of you.
If you have a spare moment, please visit the contest voting page and cast your vote in all of the blog matchups listed (including, of course, the one for my blog). If you have time, you can skim each blog to get a feel for which ones deserves your vote. Otherwise, just cast a random vote in the pairings you don't wish to evaluate.
The deadline is this Friday, March 20th at 7:59 a.m. CST.
So it's Chicago vs. Fredericksburg in Round 1. Vote early and vote often, Chicago. This time, you really can.
Mar
17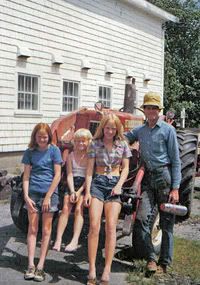 My sisters, dad, and me (center right) on our family farm in 1975.

Last weekend marked the beginning of spring in our household. My three boys (all under four years old) spent the last few days digging and playing outside. My oldest has a new specialty, "mud sandwiches" comprised of dirt squeezed between two rocks, and he informed me that he is planning to "grow things" from the dirt that he piled in the back of his toy fire truck. It is such a pleasure to see them discovering their environment.
We recently moved into a new house, and we have a bare patch of soil in our backyard.  I assumed I would call a landscaper and plant some large low maintenance bushes once the ground thaws, but now I have had a change of heart. I want to plant a small garden with my boys so they can enjoy the process of nurturing something and watching it grow.
Mar
17
If you read this blog from the Live and Play in Chicago website (rather than by email subscription or RSS reader), you may have noticed a new item called "Twitter Updates" in the sidebar. Yes, ladies and gentlemen, I am now a part of the latest social networking trend, Twitter.
For the uninitiated, Twitter is something called "micro blogging". Whereas traditional blogging involves full, page-length posts about an event from earlier in the day or week, micro blogging is typically a single sentence, written on the fly as things happen. Take a look at my Twitter updates (known as "tweets") in the sidebar to see what I mean.
Since everyone from Barack Obama to my home brokerage, Coldwell Banker, was already onboard, I decided to join in as well.
Now, you can follow along with my tweets on my Twitter page here or simply by checking back to the blog from time to time. This way, you can see what life is like in the day of a hardworking real estate agent and mother like myself. And, you don't even have to ride around in my car next to a stack of listing brochures, yard signs and photographic equipment!
If you have a Twitter account, let me know, and I'll be sure to give you a friendly "follow."
Mar
16
"When did you buy your house?" writes real estate reporter Marcie Geffner in her recent Inman article by the same name.
That was the question my friend Marilyn Stotts asked me during a recent gathering at a local restaurant. Not, "Where is your house?" "Do you like your house?" "How big is your house?" Or even the open-ended conversation starter, "Why did you buy your house?" But instead, "When did you buy your house?"
The fact is that with the rise and then fall in home values that has taken place in the last decade, the timing of your purchase is a good indicator of whether your home is worth more or less than you paid.
Mar
15
When I meet with prospective home buyers, one of their first questions is inevitably, "How low below the asking price should I expect to pay?" My answer is always the same… it depends! Some homes are priced fairly and others are grossly overpriced. I cannot recommend a generalized strategy as we need to weigh the merits of each home individually against their prices.
When my team and I work with a seller to list their home, our strategy is to determine the home's approximate market value, and then offer it for sale for as close as possible to (or even slightly below) that number. This strategy is especially important in a declining market. If we were to tack on an extra 10% of "wiggle room" onto our asking price, and then the market dropped 5%, we would be 15% above the market.  The larger the gap between market value and asking price, the greater the chance that the right buyers will not see your home. Rather, buyers in the market for a more expensive home will see yours, and it will pale in comparison to the competition. The most effective strategy is to price slightly below the market so your home is the "best in its class."
Mar
14
Whether you just stumbled onto my blog today or have been a regular reader for some time, if you like what you see here, please nominate www.liveandplayinchicago.com for entry in the Nationwide Real Estate Blog Brawl hosted by the Virginia Association of Realtors. You can do so at the bottom of this page: http://varbuzz.com/2009usblogbrawl.
There are prizes involved in this head-to-head Realtor blog battle, but I'd just like the chance to pit my posts against other web savvy agents from around the country. If you'd like to see that happen, please vote before the March 16, 8:00 a.m. deadline.
Thanks for all your visits, comments, subscriptions, Twitter follows, and all the rest. As long as you keep reading, I'll keep writing, whether in competitive format or otherwise.
keep looking »