Feb
18
Yesterday, President Obama signed into law one of the largest pieces of legislation in American history, The American Recovery and Reinvestment Act (a.k.a. the economic stimulus package), a $787 billion mix of tax breaks and government spending intended to jumpstart the U.S. economy.
I'm not a macro economist, so I can't comment on the broader implications of the bill. However, I do understand the Chicago residential real estate market, and from what I've seen lately, the passage of the bill seems to be having some effect, whether direct or psychological, on home buyers in Chicago.
Read more
Feb
18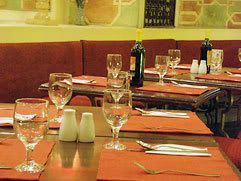 Did you notice the hip new restaurant that opened two blocks over? PeekaCity did!
Do you know which coffee shops are near your home? What about restaurants? Dry cleaners? Parks?
If you've lived in your current home for awhile, you probably know your way around, but what if you are considering moving into a new neighborhood? Touring the homes that are for sale may be easy, but how can you keep track of which amenities are near each home?
Thanks to a website called PeekaCity, it's simple. Just enter an address in a metropolitan area (such as our own beloved Chicago) and see what's nearby – all laid out on an easy-to-use interactive map.
You can scope out everything from banks and fitness centers to health care providers and public transportation. Try it out with your address!
I like this tool so much, I've added it to my Chicago real estate website so potential buyers can explore what is near each of the homes I have for sale.
Photo by Jun Acullador
Jan
21
My sister, Nathalie Ames, and I were fortunate to be among the 240,000 to have tickets to yesterday's Inauguration. We were in the "Silver Section" which was located directly behind the reflecting pool. It was the furthest ticketed area from the stage and we shared it with tens of thousands of other people.
It was quite a day. Here's how things went.
Jan
19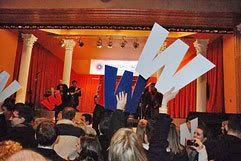 The crowd in anticipation of President Bush's arrival
My trip to Washington D.C. is turning out to be a bipartisan affair. On Sunday evening, as Washington D.C. was filling-up with Obama supporters, I had the opportunity through a good college friend to join Bush's White House team for a farewell bash. Attendees included several members of the cabinet including Secretary of State Condoleezza Rice. A very casual affair, the "Crossing the Finish Line" celebration was held in the Spanish Ballroom at Glen Echo Park.
Jan
19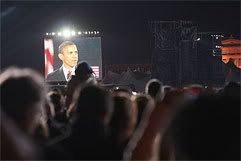 Obama's election night rally in Chicago's Grant Park. (Photo by gingerbydesign)
Like more than a few Chicagoans, today, I am not in the Windy City but rather 600 miles to the east in Washington, D.C. As you might have guessed – I'm here to see firsthand the inauguration of our 44th President, Chicago's own Barack Obama.
If you've read the news, you know that I am far from the only one to make such plans. Thousands from Chicago and around the country have been cramming into trains, planes, and automobiles to come see Obama's swearing in as well as attend countless parties, concerts, prayer services and other events.
Nov
4
These past few days, Chicago has enjoyed an "Indian Summer," a period of unseasonably warm weather in autumn. In short order, we've gone from 50 degree weather last week to 60 and 70 degree temperatures these past few days. It's heavenly!
This fair weather brings to mind the old "Injun Summer" cartoon from the famed Chicago Tribune cartoonist John T. McCutcheon. While McCutcheon's verbiage is unfortunately politically incorrect in hindsight, his wonderfully drawn cartoon is a good reminder of just how long beautiful autumn weather like this has been appreciated.
One thing that isn't politically incorrect, however, is voting, and today's Election Day weather is ideal for that. Reports from the polls tell of long lines out the doors at some polling stations, but that's almost a blessing on a day like this. Of course, many polling stations are moving much smoother. I voted myself today and made it in and out in ten minutes.
The rally in Grant Park tonight for Chicago's native son, Barack Obama, had obtained permits to sell hot chocolate, but there may be little demand for that tonight. Back when it was chilly, Mayor Daley predicted a million attendees for the event. Who knows how big the crowds will be now?
Whatever your plans for these next couple days, be sure you get out and make the most of this Chicago Indian Summer.
Sep
22
There is no doubt that these are turbulent times. A presidential election in full swing, one of the worst drops on Wall Street (followed by one of the biggest rallies) last week, and a continued major reshuffling of the real estate and financial landscape – it's enough to raise one's blood pressure.
While I am not an expert on stress, anyone who knows me knows I maintain a full plate, and most days, I do it in stride. I thought I'd share what works for me.
Sep
5
Not long ago, on my way to show a Lincoln Park home, all traffic came to a halt. Fire trucks with lights flashing had blocked the intersection of Fremont and Webster in Lincoln Park, and I could not get by. Eventually, I turned around and pulled down an alley so I could continue on to my appointment. As I passed the scene of the fire, I saw lots of trucks, equipment, and activity, and I overheard one of the men saying that the fire was now out. I drove on.
I thought nothing more of this until I listened to my voicemail the next morning. A friend had called to say that it had been his home that had caught fire, and he and his family were now scrambling to find temporary housing. They were hoping I could help them.
Aug
18
Busted! If you saw this month's Chicago Agent magazine, you know that Lindsay Wolfe from my residential real estate sales team and I recently attended a shopping event.
Truth be told, I hate shopping. I would rather visit the dentist than the average department store. With three young children and a full-time career, I just don't have the time to shop. Moreover, I find the volume of options in most stores completely overwhelming. So instead, I have a closet full of dusty clothes I don't wear, with just a few things that I love and wear frequently.
Held at Nordstrom's Chicago downtown store, the cocktail event was sponsored by the Women's Council of Realtors, but it was not just any shopping event. The presenter was wardrobe consultant and personal shopper Julie Watson, and she talked about how to build a wardrobe. She explained that the architecture of your collection (I laughed, because my wardrobe is hardly a "collection") should be comprised of three layers in the shape of a pyramid: a base layer of essentials, a second layer of novelty style essentials, and a top layer reflecting today's trends. (You can read her full strategy here).
Aug
15
I was recently asked what my favorite properties have been among the hundreds I have sold over the course of my residential real estate sales career. It was an intriguing question, and I was still thinking about it as I put my kids to bed that night.
First, however, I had to ask myself, "Just how many homes have I sold?" Was it hundreds? Thousands? Just for kicks, I checked.
Since I received my real estate license in 1994, I have sold 792 properties including 589 "attached" properties (condos, coops, lofts, and townhomes) and 192 single-family homes. In 63% of my sales, I represented the seller, and the buyer was my client for the other 37%. There were a small number of sales where I was a dual agent representing both sides in the same transaction. My average sale price to date is $771,574 which is quite high considering that when I started my career in the 1990s, prices were considerably lower than in recent years. To date, I have sold $612 million worth of homes.
But which of these 792 had been my favorites? I had to sit down and scan the pages of homes sold, remembering each one as I read down the list. Looking at the properties, I recalled each of my past clients – the persons or families who had sold or bought these homes. As I started to narrow my list, I realized that my favorite homes were the ones that best reflected the spirit of their owners.
Here are some that rank high on my list.
« go back
—
keep looking »