Mar
11
It's almost March 13, the deceptively early date for many of Chicago's 2010 St. Patrick's Day celebrations. If you're looking to get out and enjoy some of the festivities, here are some options to consider.
Feb
8
Valentine's Day is almost here, and the City of Big Shoulders shows even bigger heart when it comes to offering up ways to make your February 14th a memorable one. Here are some romantic ideas to consider as you plan your Chicago Valentine's Day date with your special someone.
Mar
17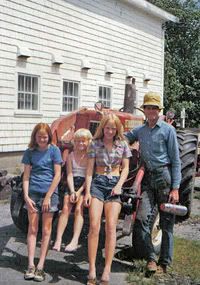 My sisters, dad, and me (center right) on our family farm in 1975.

Last weekend marked the beginning of spring in our household. My three boys (all under four years old) spent the last few days digging and playing outside. My oldest has a new specialty, "mud sandwiches" comprised of dirt squeezed between two rocks, and he informed me that he is planning to "grow things" from the dirt that he piled in the back of his toy fire truck. It is such a pleasure to see them discovering their environment.
We recently moved into a new house, and we have a bare patch of soil in our backyard.  I assumed I would call a landscaper and plant some large low maintenance bushes once the ground thaws, but now I have had a change of heart. I want to plant a small garden with my boys so they can enjoy the process of nurturing something and watching it grow.
Mar
12
It is almost St. Patrick's Day, that time of year when Chicago's Irish heritage is put on display in dazzling, emerald green fashion. If you're looking to get out and enjoy some of the festivities, consider these options. Note that some of these events are held in advance of March 17th, the official holiday.
Feb
18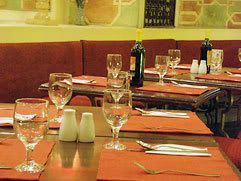 Did you notice the hip new restaurant that opened two blocks over? PeekaCity did!
Do you know which coffee shops are near your home? What about restaurants? Dry cleaners? Parks?
If you've lived in your current home for awhile, you probably know your way around, but what if you are considering moving into a new neighborhood? Touring the homes that are for sale may be easy, but how can you keep track of which amenities are near each home?
Thanks to a website called PeekaCity, it's simple. Just enter an address in a metropolitan area (such as our own beloved Chicago) and see what's nearby – all laid out on an easy-to-use interactive map.
You can scope out everything from banks and fitness centers to health care providers and public transportation. Try it out with your address!
I like this tool so much, I've added it to my Chicago real estate website so potential buyers can explore what is near each of the homes I have for sale.
Photo by Jun Acullador
Jan
19
Sheryl Crow, who will appear at an upcoming private concert in Lincoln Park (photo by Anirudh Koul)
Say good-bye to school bake sale fundraisers! This economy is pushing Chicago area not-for-profit organizations to be more creative as they pursue a diminished pool of charitable dollars.
Below are three upcoming fundraisers where you can not only have a great time but support causes that make Chicago the world-class city it is.
Sheryl Crow at Francis W. Park School
Chicago's prestigious Francis W. Parker School is aiming to raise $1 million for their endowment through a private concert featuring 9-time Grammy award winning singer/song writer Sheryl Crow. The concert will be held in the school's new Diane and David B. Heller Auditorium.
The show will take place on Saturday, March 7 at 7:00 p.m. and is not being advertised outside of the school community. At $500 to $5,000 a seat, tickets are not cheap. Still, the cause is a good one and the chance to see this popular performer in an intimate venue like a school auditorium is sure to be amazing. Visit www.supportfwp.org to order tickets.
Oct
16
Chicago may be best known for its Chicago-style hot dogs and deep dish pizza, but the Windy City can also brew an impressive cup of Joe as well.
In fact, the latest edition of the food and wine magazine Saveur highlights some of the best coffees in the world – and two of the top picks are Chicago-based brands (San Rafael Lot 1 from Metropolis Coffee Company and Hacienda La Esmeralda from Intelligentsia Coffee and Tea).
And if there's anyone who appreciates good coffee it's the Ames family. My own sister, fellow Realtor Nathalie Ames, founded her own coffee shop in Mesa, Colorado after finding the area to be nearly devoid of coffee venues. Now, in a place where the nearest Starbucks is 18 miles away, Mesa has a wonderful boutique coffee shop in Nathalie's Blink Coffee.
Thankfully, here on Chicago's North Side, one need not go to such extremes to get great coffee. In fact, even though Starbucks is still the most (in)famous name in town, there is still a rich offering of small chain and independent coffee shops here as well. Below are some that offer both the best ambience and the best coffee and tea.
Sep
9
It's that time of year again. Soon, Chicago's most important civic and cultural organizations will roll out the red carpet and we'll open up our wallets – all for a night of entertainment and a good cause. The lineup of events this fall is pretty spectacular, and there is something for everyone. I encourage you to learn more about some of my favorite charities highlighted below. This list is by no means exhaustive, and I welcome you to comment with information about others.
Aug
5
Having young kids has definitely had an impact on my husband's and my social life. (Social life? What social life?!) The energy we once spent planning elegant cocktail and multi-course dinner events has been redirected toward birthday parties for… well… babies and toddlers! Thankfully, there are some great venues for children's birthday parties here in Chicago. Here are some of our favorites:
Aug
5
This past week, I had the pleasure of attending an event where I heard Alice Waters speak. Alice is the founder of the Chez Panisse Foundation, a not-for-profit with the mission of promoting "edible education." Specifically, the Foundation is seeking to change school lunch programs and improve the way we care for the health of our children, our communities and our environment.
The main point Alice raised was her concern over the poor diet that Americans – particularly our children – are adopting. Low quality, highly processed foods are increasingly dominating our meal plans and taking a toll on our health as well as the environment and local economies. Furthermore, the drive-thru dinner is steadily eroding the tradition of the family sit-down meal. Alice summed up this new lifestyle with a bumper sticker she had recently seen: "If we are what we eat, I'm fast, cheap, and easy."
As a mother raising three children, I was struck by Alice's presentation. Finding healthier food and the time to prepare "traditional" dinners is an ongoing challenge. Between our hectic work schedules, a desire to squeeze in some exercise, and spending quality time with our kids, my husband and I have minimal time to shop and prepare homemade meals. Dining out or "dialing for dinner" (aka ordering carryout) is a tempting option in a city like Chicago, but as a daily habit, it can be expensive and fattening.
The good news is that – fueled by the organic movement, a new emphasis on buying local, and an increasing desire to eat healthier – more "green" food options are sprouting up in Chicago. Some are more practical than others (raising chickens in backyards being on the ambitious side), but increasingly, there are many tempting options for those looking to buy healthy, local food.