Jun
5
How time flies! One of my first posts after starting this blog last summer was on Chicago's annual "Movies in the Parks" program. Now, another summer is here, and that means another season to enjoy great films for free in the friendly setting of Chicago's public parks.
The film reels start rolling as early as next week with titles like Kung Fu Panda, Madagascar 2, The Dark Knight, and Iron Man on outdoor screens across the city. Visit the Chicago Park District's Movies in the Parks page to see which films are playing near you.
And if you live in the central Lakeview area, there's an independent "Movie Night in the Park" event this Sunday at Hawthorne School. They will be showing cartoons followed by Disney's animated motion picture Bolt.
So pack a picnic, grab a blanket and relax under the stars while enjoying some great movies free of charge.
Photo by BluEyedA73
Apr
2
The economic downturn has seen many American families relocate after losing their homes amid financial difficulties. Here in Chicago, however, there are those who have left their previous homes under much harsher circumstances – warfare or persecution.
Mar
21
When I think about Africa, my mind goes straight to the "Big Five." These are the "trophy" animals that visitors often hope to see while on safari. They include the rhinoceros, elephant, leopard, buffalo and lion.
Here in Chicago's urban "jungle" we may not have thousand pound mammals roaming our streets, but we do have what I call my own "Big Five." Many of my favorite childhood memories tie back to the time I spent in each of these places. Whether you are a lifelong resident or a tourist in our fair city, be sure to explore these world-class institutions when you have the chance.
Mar
17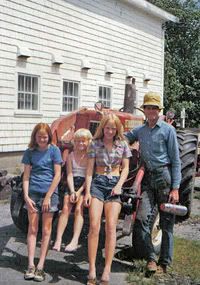 My sisters, dad, and me (center right) on our family farm in 1975.

Last weekend marked the beginning of spring in our household. My three boys (all under four years old) spent the last few days digging and playing outside. My oldest has a new specialty, "mud sandwiches" comprised of dirt squeezed between two rocks, and he informed me that he is planning to "grow things" from the dirt that he piled in the back of his toy fire truck. It is such a pleasure to see them discovering their environment.
We recently moved into a new house, and we have a bare patch of soil in our backyard.  I assumed I would call a landscaper and plant some large low maintenance bushes once the ground thaws, but now I have had a change of heart. I want to plant a small garden with my boys so they can enjoy the process of nurturing something and watching it grow.
Mar
12
It is almost St. Patrick's Day, that time of year when Chicago's Irish heritage is put on display in dazzling, emerald green fashion. If you're looking to get out and enjoy some of the festivities, consider these options. Note that some of these events are held in advance of March 17th, the official holiday.
Mar
4
Happy birthday, Chicago! On today, March 4, it has been exactly 172 years since Chicago was granted its charter, having been founded on a short, swampy portage near the Chicago River and named after a wild onion (humble beginnings, yes).
Since then, Chicago has been the hog butcher for the world, the birthplace of the skyscraper, and the home of more cultural contributions than can be listed.
This year, times are tough (though the city has seen tougher), but there are also many exciting potential opportunities on the horizon (such as this and this). As a Chicagoan from a long line of Chicagoans, today is a proud milestone.
If you're up early reading this and have an open schedule today, you can celebrate Chicago's birthday with your kids at the Chicago History Museum where they're throwing a party with music, crafts and cake from 10:00 a.m. to 1:00 p.m. Museum admission will be free from 9:30 a.m. to 1:00 p.m.
Feb
3
The famed statue of Abraham Lincoln in Chicago's Lincoln Park (photo by Jeremy Burgin)
Even to the casual observer, it's easy to see how proud we are in Chicago of the late Illinois rail-splitter-turned-president, Abraham Lincoln. There are Chicago streets, parks, statues, entire neighborhoods (Lincoln Park and Lincoln Square), and countless business establishments that have been built or named in Lincoln's honor.
Now, in a year when another lanky statesman from Illinois has been sworn in as the nation's Commander-in-Chief, it just so happens that Honest Abe's 200th birthday is about to roll around. The exact date falls on February 12, and to no one's surprise, Chicago is not about to let this bicentennial pass without a fuss. Below are some of the many ways you can celebrate the legacy of the Great Emancipator while taking in some important Illinois history at the same time.
Jan
23
Canoeing? No. Kayaking? Yes – at summer camp in Chicago
You read correctly. We may be in the dead of winter, but if you have children, it's not too soon to start thinking about summer camp registration. In fact, slots for some programs fill up fast over the winter, and if you don't act quickly, your kids could miss out on some great summer opportunities (and you on some summer peace and quiet!)
Below are some great Chicago summer camp offerings. All programs are day camps unless otherwise noted.
Jan
19
Sheryl Crow, who will appear at an upcoming private concert in Lincoln Park (photo by Anirudh Koul)
Say good-bye to school bake sale fundraisers! This economy is pushing Chicago area not-for-profit organizations to be more creative as they pursue a diminished pool of charitable dollars.
Below are three upcoming fundraisers where you can not only have a great time but support causes that make Chicago the world-class city it is.
Sheryl Crow at Francis W. Park School
Chicago's prestigious Francis W. Parker School is aiming to raise $1 million for their endowment through a private concert featuring 9-time Grammy award winning singer/song writer Sheryl Crow. The concert will be held in the school's new Diane and David B. Heller Auditorium.
The show will take place on Saturday, March 7 at 7:00 p.m. and is not being advertised outside of the school community. At $500 to $5,000 a seat, tickets are not cheap. Still, the cause is a good one and the chance to see this popular performer in an intimate venue like a school auditorium is sure to be amazing. Visit www.supportfwp.org to order tickets.
Dec
18
After a long interlude, I now have another guest post to share from one of my Team members. This post comes from John Costa, our team's Director of Marketing. While John spends his days spearheading the print and online marketing of our client's properties, today, he's offering up some advice on how to make the most of Christmas in Chicago.
The Holidays in Chicago
Lights on palmetto trees. Playing a quick nine holes of golf. Wearing shorts in December. While this was Christmas as usual for me when I lived in Charleston, South Carolina, it didn't feel truly like the holiday season to a New Jersey native such as me. So, when I moved to Chicago two years ago, I looked forward to enjoying "Northern" Christmases once again.
With so many holiday offerings in the city, I thought it would be helpful to provide a short list of some of the best ways to take in the season in Chicago. Here's my picks:
« go back
—
keep looking »