Feb
7
The following article originally appeared in our Chicago real estate magazine, Live & Play Chicago.
We all know that you can't judge a book by its cover, but when it comes to selling your home, buyers will definitely be judging your property on its presentation.
With that in mind, taking some time to ensure that your home shows well before putting it on the market can really pay off – both in terms of a better price and a quicker sale. Best of all, you can see these benefits without the need to remodel bathrooms or pursue major renovations.
Here are a few of the simple, inexpensive tips our Team gives clients when preparing their homes for sale:
Dec
16
I am a big fan of winter in Chicago. The city is rich with tradition for young and old alike, especially over the holidays. My favorite childhood memories include viewing the animated holiday displays in the store windows along State Street, getting my picture taken with Santa Claus at Macy's (then Marshall Field's), seeing the Nutcracker Ballet with my grandmother, and visiting the Museum of Science and Industry's spectacular Christmas around the World and Holiday Lights exhibit. Nowadays, there are even more opportunities to enjoy, like ice skating at Millennium Park or Wrigley Field, perusing Christkindlmarket with a cup of hot spiced wine in hand, and snuggling up in the back of a horse-drawn carriage for a ride along Michigan Avenue.
While you're enjoying winter in the city, though, don't forget some of these practical seasonal considerations.
Nov
3
Are you thinking about buying your first home, or perhaps upgrading, downsizing or buying an investment property? Or maybe you're searching for a home to buy or thinking about starting? If either case describes you, we invite you to join us for our two upcoming seminars on how to buy and sell a home in today's market.
Aug
17
I wrote about home fire safety in a post back in September, but a family trip to a neighborhood fire station reminded me of a specific safety topic that needs emphasis – children.
This weekend, the firefighters of Chicago Fire Department Engine 55 welcomed my family and another (including six children aged two to eleven) into their station house for a guided tour. You can imagine the thrill the kids shared as they tried on real firefighter helmets and coats, sat behind the wheel of a massive fire truck, and slid down the bottom section of a life-sized fireman's pole. For my son Max, who dressed up as a firefighter at age two for Halloween, it was a highlight of his summer!
Mar
17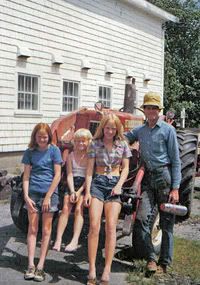 My sisters, dad, and me (center right) on our family farm in 1975.

Last weekend marked the beginning of spring in our household. My three boys (all under four years old) spent the last few days digging and playing outside. My oldest has a new specialty, "mud sandwiches" comprised of dirt squeezed between two rocks, and he informed me that he is planning to "grow things" from the dirt that he piled in the back of his toy fire truck. It is such a pleasure to see them discovering their environment.
We recently moved into a new house, and we have a bare patch of soil in our backyard.  I assumed I would call a landscaper and plant some large low maintenance bushes once the ground thaws, but now I have had a change of heart. I want to plant a small garden with my boys so they can enjoy the process of nurturing something and watching it grow.
Mar
16
"When did you buy your house?" writes real estate reporter Marcie Geffner in her recent Inman article by the same name.
That was the question my friend Marilyn Stotts asked me during a recent gathering at a local restaurant. Not, "Where is your house?" "Do you like your house?" "How big is your house?" Or even the open-ended conversation starter, "Why did you buy your house?" But instead, "When did you buy your house?"
The fact is that with the rise and then fall in home values that has taken place in the last decade, the timing of your purchase is a good indicator of whether your home is worth more or less than you paid.
Mar
15
When I meet with prospective home buyers, one of their first questions is inevitably, "How low below the asking price should I expect to pay?" My answer is always the same… it depends! Some homes are priced fairly and others are grossly overpriced. I cannot recommend a generalized strategy as we need to weigh the merits of each home individually against their prices.
When my team and I work with a seller to list their home, our strategy is to determine the home's approximate market value, and then offer it for sale for as close as possible to (or even slightly below) that number. This strategy is especially important in a declining market. If we were to tack on an extra 10% of "wiggle room" onto our asking price, and then the market dropped 5%, we would be 15% above the market.  The larger the gap between market value and asking price, the greater the chance that the right buyers will not see your home. Rather, buyers in the market for a more expensive home will see yours, and it will pale in comparison to the competition. The most effective strategy is to price slightly below the market so your home is the "best in its class."
Jan
12
The snow has not let-up in the last 48 hours, at least not in Chicago's Lakeview neighborhood where I live. Everything everywhere is covered in a pristine blanket of fluffy whiteness. The snow in our backyard is at least a foot deep. Hollywood could not have painted a prettier picture of winter in the Midwest.
But don't let the magic of the season lull you into thinking that everyone is on holiday. Today as I drove around Chicago's north side showing homes to potential buyers, I noticed that the City's parking enforcement division was hard at work dusting off meters to verify that they had not expired. I saw one Parking Enforcement Aid (PEA) scrape the snow off a small portion of an offender's windshield – creating just enough space to slap on a bright orange parking violation notice. If you were among the unlucky ones who received a citation, you might want to check out this informative blog about how to fight parking tickets. However, if you simply decided not to feed your snow-covered meter, you should probably just pay the ticket!
Dec
22
With the holiday season upon us here in Chicago, we're in the period of historically high occurrences of home burglaries. With so many families away on vacation, unoccupied homes become a target for the thieves who can spot them.
If you're heading out of town for the holiday, here are five simple steps you can take to avoid putting a bulls eye on your home for enterprising criminals.
Oct
9
Many of the luxury homes I sell may be finely finished for adults, but that's not always the case as far as babies and small children are concerned.
Childproofing a home is an important part of starting a family, but it can be difficult to balance safety and practicality. I know one couple who pulled out all the stops and spent thousands of dollars childproofing their home right after they had their baby. Ultimately, they ended up moving out of their home before their child was even old enough to crawl.
My advice is that childproofing is something that should be taken in baby steps (no pun intended). With a little planning, you can make your home safe for your young ones without spending more than you need or locking your home down like a fortress.
If you're just starting out, there are some straightforward steps you can take to childproof your home. Each of these measures will need to be completed before your child is developed enough to access each specific danger. Many of the safety products described below can be purchased at hardware or home improvement stores or over the Internet at baby safety websites.
Here's what needs to be done:
keep looking »