Oct
1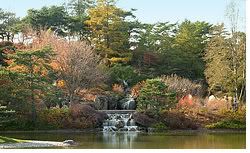 In a recent posting, I offered some suggestions on how to cope with stress and the challenges of staying healthy and balanced despite the daily grind. Already, I would like to add to that list!
I cannot think of a nicer way to spend a fall day than to take a relaxing walk at one of my favorite pieces of "Chicago" real estate – a 385-acre plot of landscaped islands in Glencoe, Illinois. I'm talking, of course, about the Chicago Botanic Garden.
Encompassing everything from orchards, vegetable plots, and vineyards to bonsai trees, rose gardens, and tropical greenhouses, the Chicago Botanic Garden is one the metro area's most scenic locations. Just 20-30 minutes from downtown, this "living museum" is superbly maintained, and it's open free to the public every day. This is a beautiful place to visit any time of the year, but now that the fall foliage is arriving, it's particularly stunning.
The garden has more ground than can be covered in one visit, so it makes for a great day event for the family. Kids will enjoy the wildlife (ducks, geese, swans, chipmunks, carp, etc.), seeing how their food grows (tomato plants, grape vines, banana trees, etc.), and playing on the many trails and green spaces. There are classes for kids as well. You can pack a picnic to eat on one of the garden's lawns, or simply order from their lakeside café.
So, if you're looking for a nice way to relax and enjoy a beautiful fall day before winter arrives, I can think of no better place to do it than at the Botanic Garden.
From Chicago's North Side, the garden is a short drive up I-94. It's also easily accessible by foot or by the garden's own trolley service from the Metra Union Pacific North Line.
Visit the garden's website for full details, and to see what upcoming events are happening there.
Print This Post
Comments