Mar
17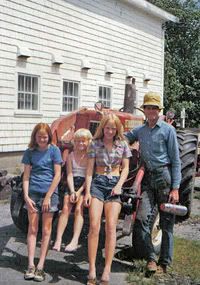 My sisters, dad, and me (center right) on our family farm in 1975.
Last weekend marked the beginning of spring in our household. My three boys (all under four years old) spent the last few days digging and playing outside. My oldest has a new specialty, "mud sandwiches" comprised of dirt squeezed between two rocks, and he informed me that he is planning to "grow things" from the dirt that he piled in the back of his toy fire truck. It is such a pleasure to see them discovering their environment.
We recently moved into a new house, and we have a bare patch of soil in our backyard.  I assumed I would call a landscaper and plant some large low maintenance bushes once the ground thaws, but now I have had a change of heart. I want to plant a small garden with my boys so they can enjoy the process of nurturing something and watching it grow.
I'll keep the garden simple and go for big impact – perhaps we'll grow sunflowers and tomatoes and maybe even a pumpkin vine. This morning I called the Garden Center at Home Depot and confirmed that seeds are already in stock for the summer season. It's too early to plant outside but a good time to begin planning a garden and even starting to grow seedlings within the warmth of our south-facing kitchen.
When I was in 7th grade, my dad and stepmom moved to a farm outside Boston. It was a true working farm where they bred dairy cows, grew hay, and harvested timber. They also had a remarkable vegetable garden. Each summer, I helped in the garden, mostly watering, which was a daily chore. However, I also reaped the benefits of my labor which included fresh picked corn on the cob, sliced homegrown tomato salad, and warm zucchini bread. I learned a lot of important lessons tending that garden, most importantly, that there is nothing better than eating fruit and vegetables that have been picked only minutes before.
Now, I am raising my children in downtown Chicago where outdoor space is at a premium. Some condos have private balconies, often barely large enough for a barbecue grill. Townhomes typically have a small patio. The standard lot size for a downtown single-family home is 25 x 125 feet, with a backyard no more than 25 feet wide by 18 feet deep. Needless to say, urban vegetable gardens are a scarcity. Still, some people do an amazing job with container gardening. I have a friend who built planter boxes on her rooftop and planted a raspberry patch as well as an herb garden and a huge number of tomato plants. She spends her summer cooking and canning and then enjoys the fruits of her labor (no pun intended) all year round.
Even if you don't have any useable space of your own for gardening, claiming a plot at one of Chicago's community gardens is also an option.
These possibilities aside, if you lack the time or ambition to get your hands dirty with a personal garden, you can still get fresh, naturally grown produce in the city. Last August, I wrote this post about the many venues in Chicago where one can purchase local organic produce. In the post, I referenced Alice Waters who is pioneering the "slow food" movement in response to our nation's unhealthy (but oh-so-convenient) dependence on fast food. Coincidently, she was just featured on the CBS program 60 Minutes.
Unlike Ms. Waters, I am not able to abandon my nearby Jewel grocery store for entirely organic and fresh options. Between my real estate career and raising three kids, getting dinner on the table at all can sometimes be a challenge. Regardless, I am excited to begin instilling in my children an understanding of where our food comes from and how yummy it can be when fresh.
What experiences have you had with gardening in the city or getting your hands on fresh produce? Feel free to share your comments.
Print This Post
Comments